Keep large classroom devices cleaner than ever with our new 70% Isopropyl Alcohol XL Cleaning Wipes!
Our 70% isopropyl alcohol extra-large cleaning wipe contains a higher level of isopropyl alcohol to offer a slightly stronger cleaning solution for classroom tech items and large devices such as interactive panels, digital signage displays and shared workspaces.
SIZE: 9 in x 12 in (23 cm x 30 cm) • 8 ml
FORMULA: 70% Isopropyl Alcohol Formula
What You Can Clean With Our XL 70% Isopropyl Alcohol Wipes in Your School:
Interactive Panels
and Digital
Signage Displays
Traditional
Whiteboards
(Removes Ghosting)
Large Format
Flat Panel
Displays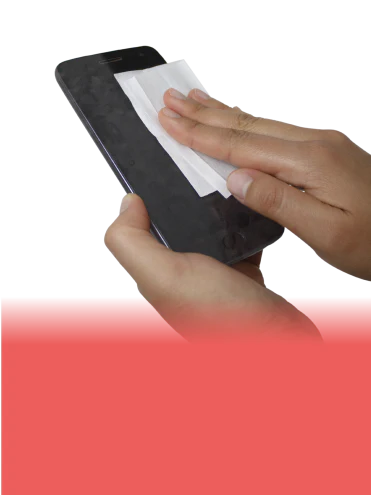 An Entire Fleet
of Chromebooks
and Tablets
What You Can Clean With Our Small Wipes in Your School: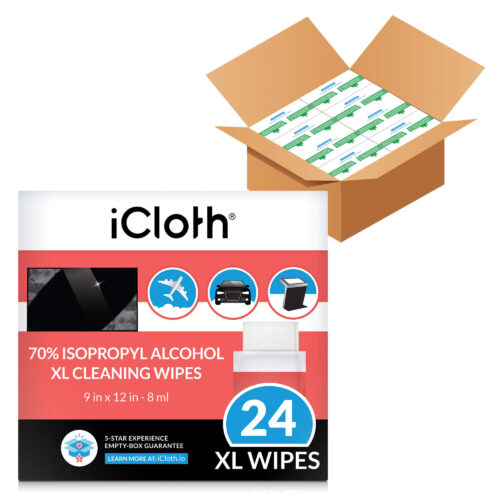 Case of 8 Cartons 192 Wipes in Total
SKU: iCXL70IPA24
$

159.92
What You Get
70% Isopropyl Alcohol Formula: the concentration recommended by the CDC to sanitize electronic devices and other non-porous surfaces

Exceptionally strong, soft and lint-free cloth with aerospace certifications that will ensure effective dirt pick-up

Individually packaged to keep each wipe perfectly moist and hygienic until the moment of use
What You Avoid
No ethyl alcohol or ammonia

No scratchy or linty cloth

No additional accessories needed to clean

No bulky packaging that gets in the way of being able to clean on the go

No impractical/messy packaging that could compromise the reliability of the cleaning wipe
Looking For a Gentler Solution for Sensitive Devices?
Try our Premium Screen Cleaning Formula:
Premium water-based formula specially designed to clean extra sensitive electronics, eyewear with special coatings, and all kinds of optical surfaces.
Do You Have Any Questions About Our Products?
Ask Away!
Can/Do iCloth wipes provide infection control?
Keyur Patel
2022-05-10T03:59:20+00:00
Our wipes contain isopropyl alcohol which, as everyone knows, is a germ killer.
To achieve optical clarity on sensitive surfaces, our Premium Screen Cleaning Wipes use a formula containing 22% to 28% pharmaceutical grade isopropyl alcohol, which is safe to use on all your screens and devices.
Our new 70% IPA cleaning wipes use a formula that contains 70% pharmaceutical grade isopropyl alcohol, making them ideal for situations where you require a cleaner clean – as the CDC* requires 70% isopropyl alcohol to disinfect effectively.
We don't feel comfortable making germ-killing claims, however, we can confidently claim that your iCloth will physically remove the guck and grime harboring any pathogens! It's the equivalent of washing your hands with soap and water… but for your devices. We have performed some lab tests recently that show our wipes to be very effective at removing germs and bacteria from surfaces. In early results, at least a 98% reduction in organic materials (like e.coli and staph.) was noted. We don't have the results for Covid-19 yet.
Our product, unlike many disinfectant cleaning wipes, leaves the surface optically clean as well. The surface not only looks clean but is clean too!
What do you need to clean?
Discover all our products: 3 Wipe Sizes and 2 Cleaning Formulas to choose from!
Also try our smaller size that is ideal for carrying in your pocket to keep all your personal devices clean!
Discover all of our initiatives to take care of our planet and to create meaningful change in the world.