The perfect wipe to clean all the small sensitive optics and devices in your classroom!
Our premium small wipe has the optimal moisture level to safely and efficiently clean your small classroom tech items like small touchscreen tablets, document cameras, smartphones, glasses, and all kinds of lenses, like those in microscopes and webcams.
SIZE: 3.5 in x 5 in (9 cm x 13 cm) • 1 ml
FORMULA: Premium Formula for Sensitive Surfaces
What You Can Clean With Our Small Wipes in Your School: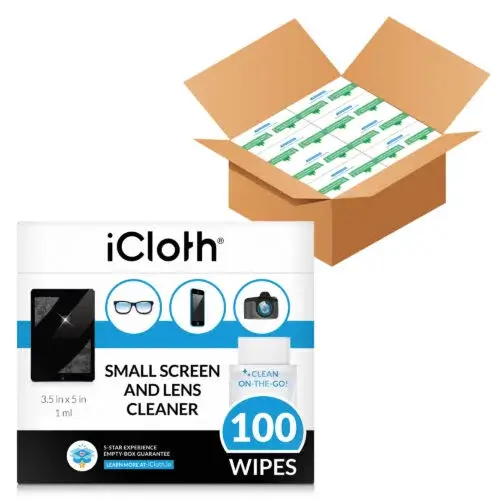 Case of 8 Cartons 800 Wipes in Total
SKU: iC100
$

151.92
Case of 30 Cartons 900 Wipes in Total
SKU: iC30
$

224.70
What You Can Clean With Our Wipes in Your School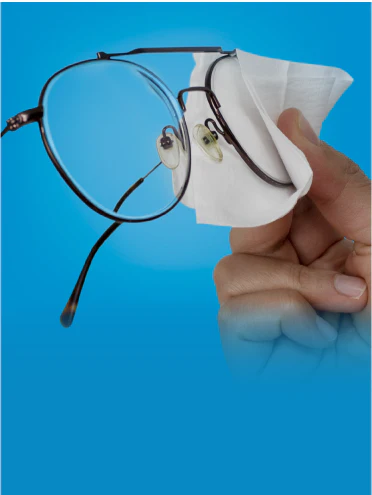 Eyewear
with/without
Protective Coatings
Small Sensitive
Touchscreens
All Kinds of Lenses
and
Optical Devices
See What Educators Are Saying!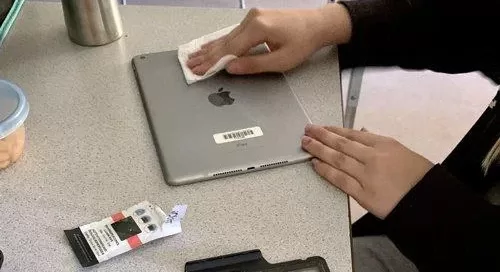 Lisa S.
Grade 6/7 Teacher
School District 42 (BC)
We are a 1-1 iPad program class so each student has their own device. We used the iCloth to clean the screens and they looked great. I asked my students to also clean their screen protectors and their iPad cases. We were all shocked to see the amount of dirt that the iCloth was able to get. What a difference. We also used it on a few cell phones….with great results.
Thank you iCloth, you didn't disappoint. Our devices look brand new!
Victoria F.
Education Assistant
Eric Langton Elementary School
Sticky, dirty and cloudy screens are found in classrooms all over my school. Today I tried the handy cleaning iCloth with my students. One cloth cleaned a whole class set of 25 iPads. The kids were easily able to open the package, spread out the wipe and clean away. The screens were crystal clean and sticky free after about three swipes of the iCloth. Best of all, I could store them back in the charging cart because the screens were moisture free and dry.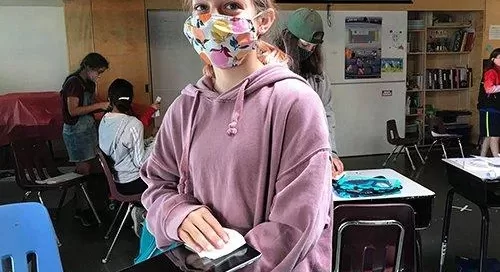 Sarah F
Grade 5/6 Teacher
My grade 5/6 students were amazed at how clean they were able to get their iPads using the iCloths at the end of the school year! We didn't realize how dirty the devices were until we saw them cleaned! What a huge difference!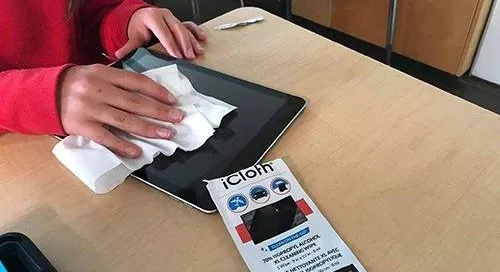 L. Tickle
Building Technology Coordinator
Ben Franklin Academy, Colorado
iCloth definitely gets the job done. And our end-of-year inventory staff reports that they work great for a wipe down of lots of devices, quickly.
What You Get
Premium water-based formula specially designed to clean sensitive surfaces without causing damage

Optimal moisture level for cleaning all kinds of electronics without affecting responsiveness and ensuring a streak-free finish

Exceptionally strong, soft and lint-free cloth with aerospace certifications that will ensure effective dirt pick-up

Individually packaged to keep each wipe perfectly moist and hygienic until the moment of use

Safe cleaning for anti-glare, anti-scratch and any other protective coatings on eyewear without scratching them
What You Avoid
No ethyl alcohol or ammonia

No scratchy or linty cloth

No excessive moisture that could cause damage or leave smudges behind

No additional accessories needed to clean

No bulky packaging that gets in the way of being able to clean on the go

No impractical/messy packaging that could compromise the reliability of the cleaning wipe
FREQUENTLY ASKED QUESTIONS
Can iCloth wipes be used for hand sanitation?
Keyur Patel
2022-10-13T10:07:45+00:00
We intend our product to be used in the cleaning and removing of contaminants from surfaces where optical clarity is crucial to performance.
Our formula was developed to easily lift grime, germs, and bacteria from these surfaces so that they can be disposed of.
Using iCloth is like washing your hands with soap and water with the added benefit of either 22% to 28% Isopropyl alcohol in our Premium Wipe formula or 70% in our new 70% IPA Wipe formula.
We have performed some lab tests recently that show our wipes to be very effective at removing germs and bacteria from surfaces. In early results, at least a 98% reduction in organic materials (like e.coli and staph.) was noted. We don't have the results for Covid-19 yet.
If you need to, and there is no soap and water around, you could certainly use our products to clean your hands. We have used them to clean our and our kid's hands.
Discover all of our initiatives to take care of our planet and to create meaningful change in the world.